CALL BEFORE YOU DIG...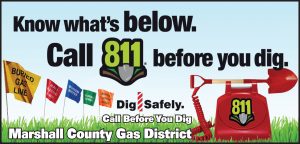 It is a requirement of State and Federal law that you "call before you dig" or move earth in any way.  You must call "Alabama 811" at 1-800-292-8525 or simply dial 811 to have lines located to insure your safety as well as to prevent damage to our underground pipelines.  Markers have been placed at the pipeline crossings of public roads, railroads, navigable waterways and other locations on our right-of-way to indicate the presence of the one or more underground high pressure pipelines.
The Marshall County Gas District provides natural gas to more than 25,000 customers in the areas of Blount, Cullman, Etowah, Jackson, Jefferson, Madison and Marshall Counties.  Distribution lines are typically yellow plastic and steel ranging in size from 5/8" to 12" ranging in depth from 18" to 48".  Marshall County Gas district also operates high pressure natural gas transmission lines located in Jefferson, Blount, Marshall, Jackson and Etowah Counties in Northeast Alabama.  These lines are steel ranging in size from 8" to 12" in diameter and buried to a depth of 18" to 48".
Temporary marking devices consist of flags, stakes, paint or other suitable means of identifying pipeline facilities in the field.  Temporary marking devices will be bright yellow which is The Marshall County Gas District's Color code for natural gas pipeline locating.
Natural gas is colorless and odorless. The District has added an odorant similar to smell of rotten eggs or Sulphur- which helps detect a possible natural gas leak. If you think you are smelling gas, leave the area immediately and call the Marshall County Gas District office or 911 from a neighboring home or business.  Never turn on a light switch or use a flashlight or phone in the presence of the natural gas smell, because and electric spark could ignite the gas and cause and explosion.
If you hear a hissing, whistling or roaring sound near our pipelines or other facilities, please call our office so that our personnel can correct any problem that might exist to ensure public safety.